Komentar Negatif Coach Stan untuk Laga Natal NBA
BY adminnews
29/12/2016
LA-Streetball.com – Setiap musimnya, pihak NBA selalu menghadirkan sajian spesial untuk para fans pada Hari Natal. Pada musim 2016/2017 ini, NBA bahkan menyajikan partai ulangan NBA Finals musim lalu antara Cleveland Cavaliers melawan Golden State Warriors tepat di Hari Natal. Pertandingan ini tentunya menjadi hiburan tersendiri bagi para fans NBA. Namun, coach Detroit Pistons, Stan Van Gundy, merasa pertandingan pada Hari Natal merupakan hal yang nggak penting.
Sejak beberapa musim terakhir, coach Stan memang cukup vokal menyuarakan ketidaksetujuannya atas laga NBA yang digelar pada Hari Natal. Pada tahun 2009, coach Stan dan pemain basket asuhannya ketika itu, Memphis Grizzlies, harus menerima hukuman dari NBA akibat komentar sarkasnya. Pada saat itu, dia memberi saran secara sarkastik agar pihak NBA menggelar 10 pertandingan pada Hari Natal.
Tahun ini, NBA melaksanakan lima pertandingan pada Hari Natal. Meski tim asuhan coach Stan nggak ikut serta, pihak media tetap saja memintai komentarnya mengenai laga Natal NBA.
"You're not going to try and get me in trouble again, are you?" begitulah respons awal coach Stan ketika ditanya wartawan.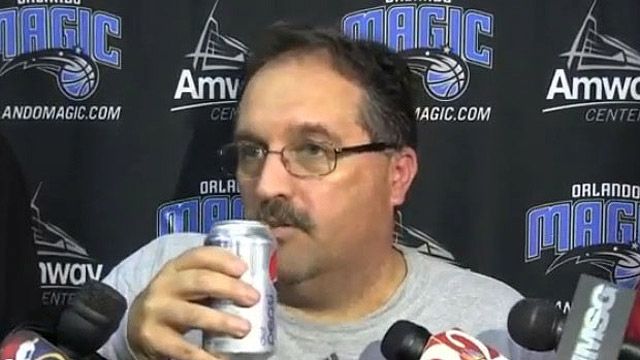 "I know the league puts a lot of importance on those games. To me, regular season games are all one of 82. I know people don't want to hear that -- they think it's cliche -- but it's the truth, and I think most coaches would tell you that. You just can't afford -- we play so many games, you can't circle a date on the calendar as people say and all of that. I mean, there's just too many games. So no, I never looked at it as anything special. I know it's a big day for the league and everything else. There's nothing that goes  together like Christmas and basketball," paparnya panjang lebar.
"I'm going to try hard not to get in trouble here. I am. I'm not going to comment on that. Look, I know there's some of the players that really get excited about it. They like playing on Christmas Day. A lot of people are going to have their TVs on and watching it, and I won't be one of them. This year, I probably will be because we play Cleveland the next day," tutup coach Sten.
Photo: nba.com, dan shockuation.com
Baca juga:
Another Game, Another Record for King James
Setuju Sama Pendapat George Gervin Ini?